We're excited to announce that LessonApp version 2 has been released!
The first version of LessonApp started development a long time ago, and we have received a lot of feedback and suggestions during this time. Instead of trying to patch the shortcomings of our initial app, we decided to put the lessons learned into practice, and build an all-around better version 2!
LessonApp version 2 moves to a new technological platform, providing you with easier and faster access to our app's features. And it also looks better than before 😉 There are also numerous new features that we can't wait to tell you more about…
New look and a feed of inspiration
The old menu has given way to a feed of useful and interesting things. Here you will find new inspiring things to explore everyday: weekly showcases of brilliant lessons, activating teaching methods and other teaching related content.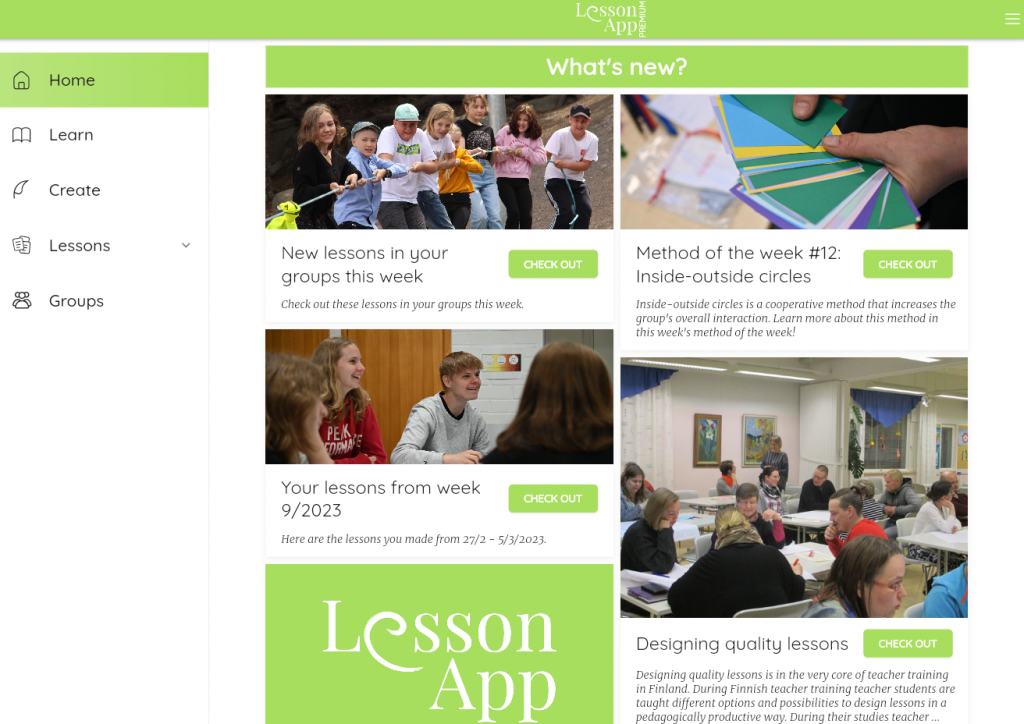 Reworked lesson planning tool
We divided the old lesson planning tool into 4 tabs to make the workflow easier and more intuitive. The building blocks haven't changed, but using them is even more convenient than before.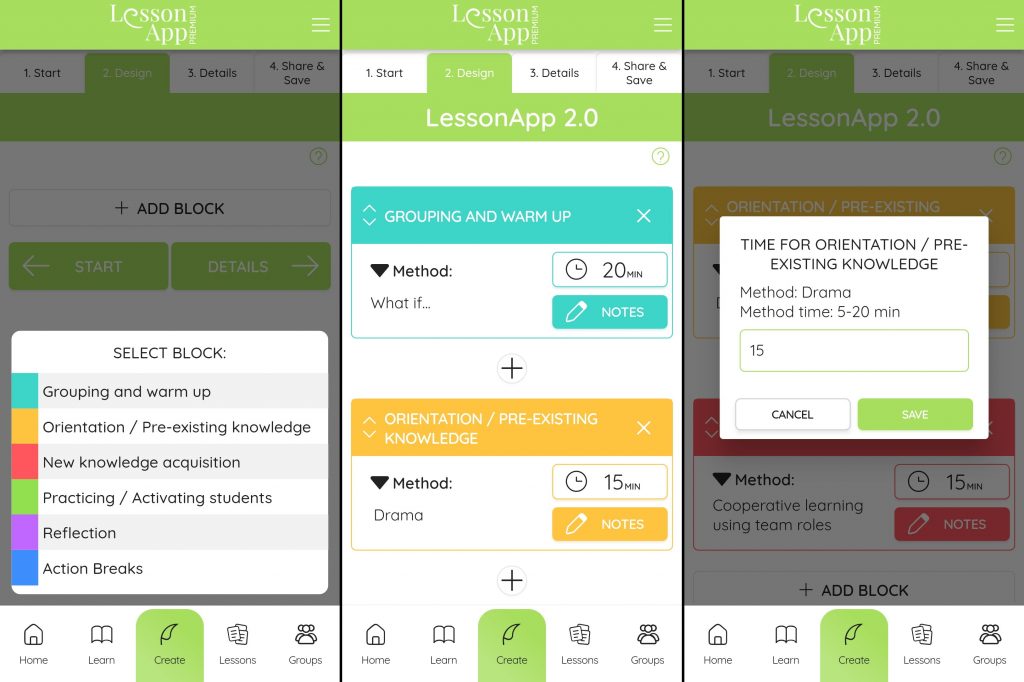 Helpful tips to guide you in the app
We have added tips around the app for both seasoned LessonApp users and the beginners. These help you to explore the new app, and to find out what has changed and what is already familiar from the old app.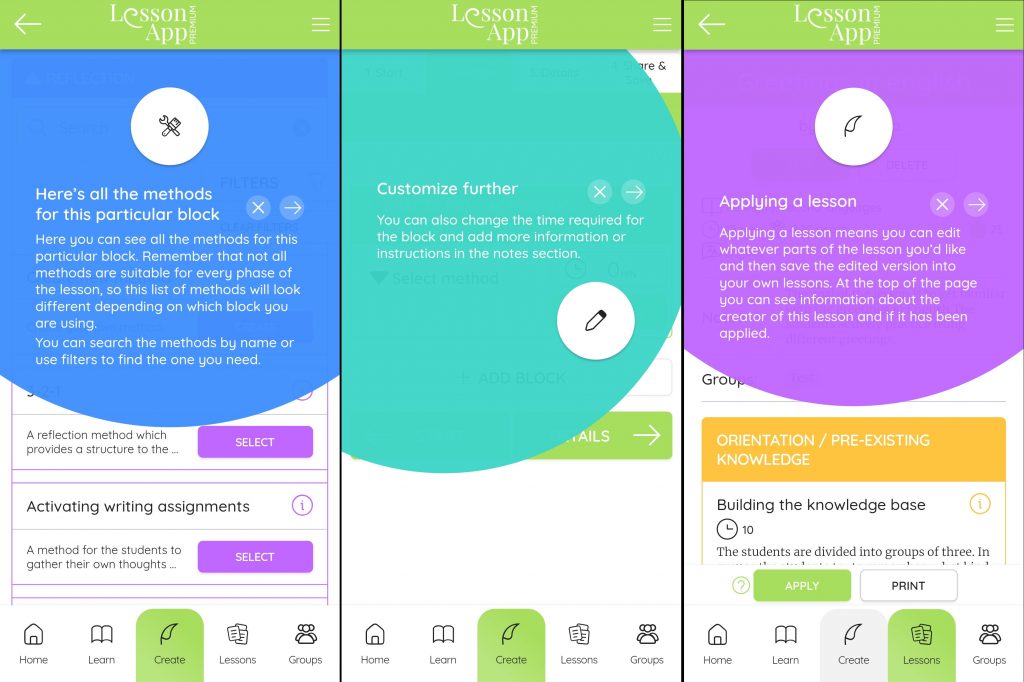 Powered by a new technology
The version 2 is built with Flutter, a new upcoming technology, which has helped us to streamline the whole experience. No more waiting for the next page to load, or having to navigate back to the menu to switch between the pages. Better usability and user experience incoming!
Early Access feedback
We have received a lot of feedback from the testers of the second version. We would love to hear more feedback from you, but here are some of the comments from the early access testers:
"The new starting page is excellent, full of useful tips and material! The way the planning of a lesson has been divided to separate parts also makes it much easier to use"
"I find LessonApp to be a useful tool for lessons – for designing and organizing them, having more in the way of methodology and tips & tricks for teachers. I find the readable material, helpful for teaching certain lessons and for organizing, structuring them by moments, time, in class. I think it would be useful to have a LessonApp for the whole school."
Team behind LessonApp
Want to meet the team which created LessonApp Premium v2? Tuomas (on the left) and Sanni (second right) were responsible for software development, Päivi (second left) and Johanna (right) for the new pedagogical design and content. Janne (not in the picture) provided us with cool visual design. The team is excited to share the new version with you and hear you feedback!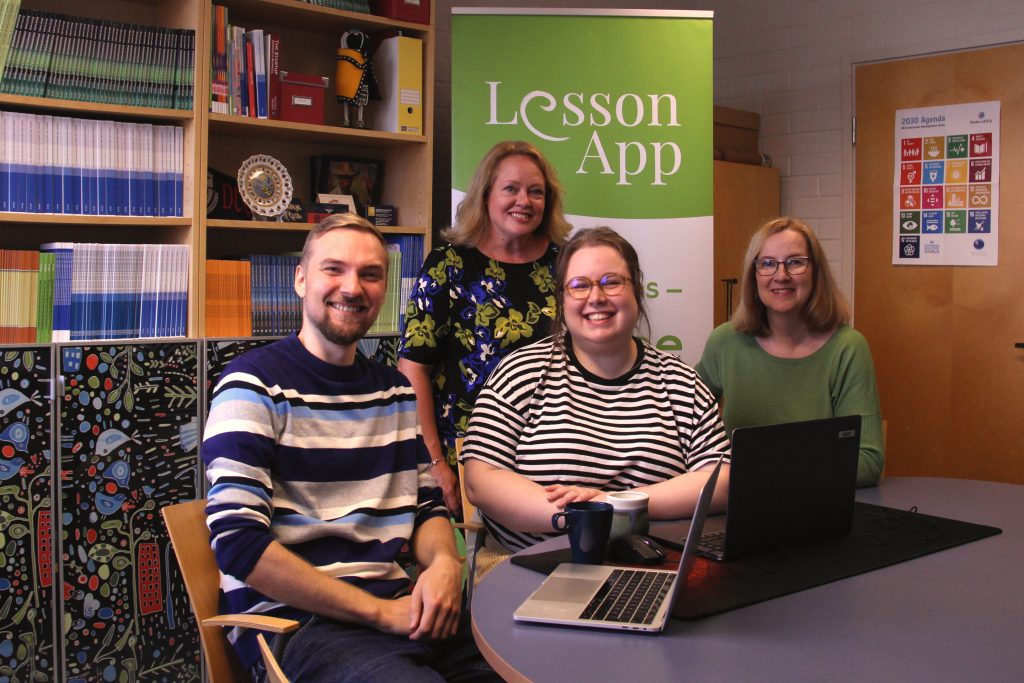 More coming soon!
Planning lessons is useful, but have you ever wanted to plan a whole course in LessonApp? This and much more is coming soon to the version 2, stay tuned!
Get LessonApp 2 now!
Premium
Try LessonApp 2 Premium version for 2 weeks, and if you love it, buy it from our shop!
---
All Premium features available
Access to over 150 teaching methods
Course planning coming soon!
Browser
Test LessonApp in your browser
---
Your old account works in the new app just like before, all your content has been moved to the new app as well!