Author: Teemu Nieminen (M.Sc, M.Ed) Working as a class teacher at Kankaantaka primary school, Nokia
The Three States of Water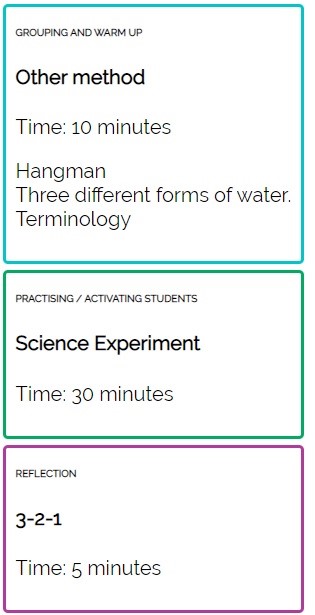 This lesson about these three stages of water has been designed for G5 students and will be delivered before the lesson about the water circle.
I have delivered this lesson many times in classroom instruction. This time I have also reflected how it would be possible to run it remotely.
Learning objectives:
Students will be able to name the three states of water and give examples of how does water change in state.
They will find some factors that affect the rate of evaporation.
They will be able to define the simple steps of the scientific method.
They will use the scientific method to create an experiment in their daily life.
They will learn to formulate a hypothesis for each question.
Materials (at school or at home):
Ice cubes
Water
Containers / glasses
Coffee machine or electric kettle
(different substances for experiments)
Warm up: Hangman (10 minutes)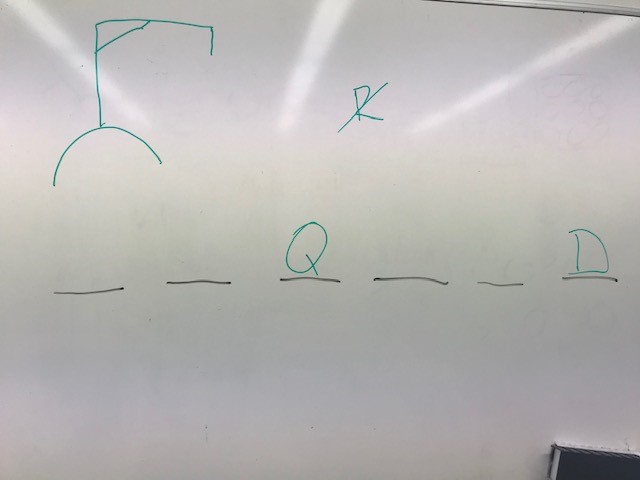 The students are used to flipped learning and before the lesson they have read about this topic from their study books and watched one video about the three states of water. We will begin this lesson by revising the terminology of this topic by playing hangman all together. Good words for this are liquid, solid, gas, freezing, melting, condensation, vapour, boiling, evaporation.
This warm up -part is actually quite easy to run also remotely. We can organize a meeting using Meet or Teams or similar application and then play Hangman by using either a camera and a real whiteboard or a virtual whiteboard.
Grouping:
Grouping is always essential if we want to get the students to work as efficient as possible. When doing experiments, I have many possibilities for forming the groups. Because I am a class-teacher, I see my students many lessons every day and know them and their strengths and weaknesses quite well.
I will use random groups this time. For this I have plastic coins of different colours. I will totally put 25 coins (five of each colour, to a hat and every student will then pick up one of these coins. The groups will be then formed based on these colours and each group should have all five different colours. These "Colourful groups" will be used during our experiments. For the last part of this lesson, we will use different "single colour" -groups.
During distance teaching and learning it is even more important for students to feel being a member of a group and for that reason I try to utilize different teams and groups whenever it is possible. But this time I prefer not to use groups because these scientific experiments will be easier to conduct individually at home.
Science experiment (30 minutes):
This part of the lesson will start with the experiment that we are all doing together. This experiment needs more time and probably we will not get it done during this lesson, but we will use this to practise the basics of conducting an experiment and to formulate a hypothesis. This first experiment could be about melting, and the question might be "Which one of these two containers has more liquid water?" The idea is to have two similar containers.  The other container will be filled with ice cubes and the other will have liquid water for a half of the container.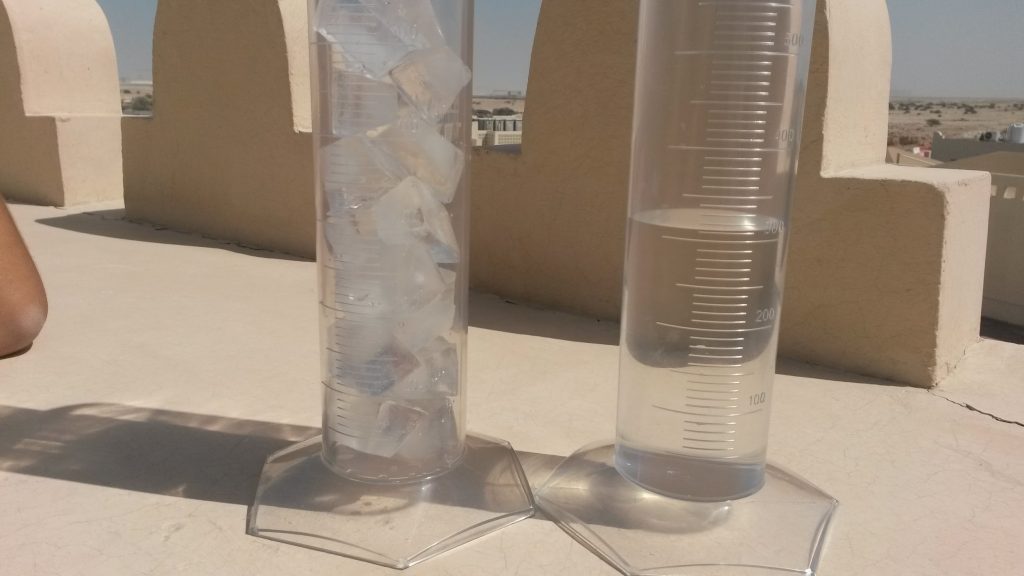 After this first experiment the students will work in groups and conduct 2-3 more experiments. These experiments will always start by formulating the hypothesis and then following by the simple steps of the scientific method. These experiments will introduce all the three states of water by demonstrating some of the following: freezing, condensation, boiling, evaporation and some factors that affect the rate of evaporation.
How about these experiments when working virtually from home? As I mentioned earlier, I would not use any groups, but every student will conduct them individually. The teacher will help each student by demonstrating all experiments and giving instructions slowly. Recording a video is one way to make it easier for students to follow. When watching a video, they can easily stop and repeat phases as many times they need.
At home the students don't probably have similar containers for experiments than the school has. A teacher has to advice students to use similar drinking glasses for their experiments. These could be for instance red wine- or white wine glasses.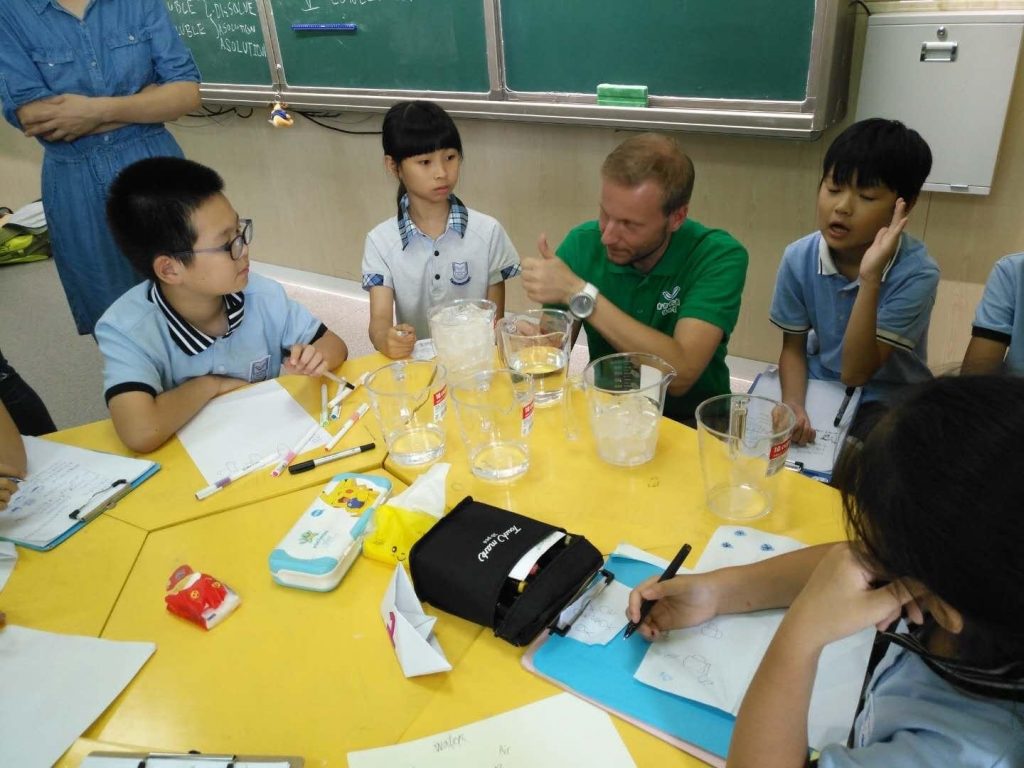 Reflection: 3, 2, 1 in groups (5+ minutes)
For the last part of this lesson I will form new groups based on the coloured plastic coins. In these "single colour" groups the students will shortly discuss and write down three things they have learned during the lesson, two things they found interesting and would like to learn more about. Finally, students write down one question they would like to ask about this topic.
Reflection is a key element when working remotely. One way to organize a group meeting is to open a different live meeting for every group. By doing this, a teacher can easily run many different meetings at the same time. This is possible, but for your own comfort and for protecting your own ears, I suggest you mute your speakers and headphones and open a fifth meeting using different device just for questions and answers.